There hasn't been any Extreme Marketing for a few weeks, because I've been up to my eyeballs in wrapping up another writing project.
Back in November 2010, when I decided to take the plunge and try National Novel Writing Month for the first time, it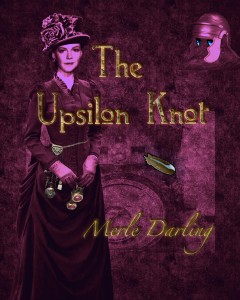 seemed more than a little crazy to try and write 50 thousand words in a single month. I knew I'd only be able to write that much if I found a whole new way of working. Instinct told me this would be easier if the story were completely different from any of my other work. I especially wanted to have some fun! After all, except for the hours spent in my office, I would be writing almost every waking minute of every day. If it wasn't fun, I'd never make it through the month.
I started noodling around, mind-mapping random thoughts. My first scathingly brilliant idea was to think about Steampunk. I've always loved building worlds and, having spent a lot of time (before, during and after college) in "our" 19th century, an alternative one seemed like something I could whole-heartedly embrace. My next inspiration was my heroine. A few years before this, I'd had a flash of "Claude" in a castle corridor. I'd immediately known quite a bit about her (including her name, by the way). Claude came together perfectly with the world I was developing. That was enough to get started.
At the end of November 2010, I had about a third of the story and a whole lot of notes. And then I had to set it aside. Over the next 18 months, I lost the agent who'd signed up The Breast of Everything, started a new job, and embarked on a self-publishing adventure. When I could find a few hours, I'd look back at The Upsilon Knot and review what I'd blurted out during that initial month. At that remove, I was able to make notes about missing links in the plot, glitches in the timeline, etc.  Along the way, I stuffed my Scrivener project file with draft pages, character sheets, mind maps, action maps, timelines, flow charts and a sometimes strange collection of research. Last summer, I was finally able to return to writing and push forward.
I've been living in—or at least with—this world for almost three years. I don't know that the execution ended up Steampunk so much as Historical Fantasy. No matter. The world and its people have been clear as day to my mind's eye. This is the week everything changes, because now I know that, very soon, you are going to be able to see this too. The printed proofs arrived and, for the first time, I hold The Upsilon Knot in my hand.
At 500 pages, I expect that the ebook edition will be more popular with readers. For me-the-writer, however, there is nothing to compare with the solid reality of that bound volume. Holding it (okay, hefting it; it really is a chunky little book!), I feel a sense of completion wash over me. My mouth smiles before my thoughts catch up to it. I walk in a fleeting state of grace. And while this feeling lasts, there is nothing so great as being a writer.