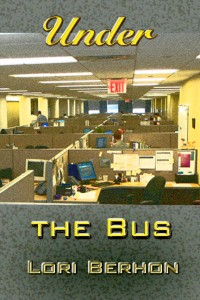 Waking up from the American Dream—one re-org at a time
Welcome to Pinnacle Management Services. The fastest growing managed office services company in North America.  Blessed with good timing and a staff of over-burdened under-paid misfits and broken toys, PMS is the paradigm of turn-of-millennium business success. From the initial growth spurt that boosted PMS from the ranks of a simple mom-&-pop shop, it's a fast five years to the equity partnership investment that surely foreshadows an eventual public offering.
As CEO Kippy Melcher would tell you, he's never made a bad decision…only sometimes he doesn't get the results he wants. When that happens, someone has to take responsibility. And whenever that happens, well, someone else is certain to be thrown under the bus!
Readers across the world agree: reading Under the Bus is like meeting a friend for Happy Hour and hearing how her job is worse than yours.
Available now at:
 Take a sneak peek here
---
The Business of Methodology
During the period covered in Under the Bus, Pinnacle Management Services establishes no less than three different Centers of Excellence and engages in an on-again/off-again flirtation with a continuous improvement methodology known as "Trim/Delta."  Although Trim/Delta doesn't exist in the real world (to my knowledge!), a number of other such methodologies do.   Some of these have the potential (if implemented effectively) to bring strong positive change to bear on work flow efficiency, cost containment, and even staff morale. Others are so much corporate duct tape.
"Studies have proven that, although 49% of all humans prefer not to ask for directions, humankind in totality has a vested belief in the existence of a formula which, if followed without either question or deviation, will lead to the desired result."

From "ACME: A Global Methodology"
In your workplace, have you been  overexposed to too much mad method for too little result? Or do you have absolutely no idea what I'm talking about? Either way, I hope you'll enjoy learning about my own creation, a methodology I have acronymically dubbed "ACME."