First Real News in Ages!
July 5, 2017.  I am delighted to announce, at long last, the official launch of Chasing Fireflies. Delighted and also a little breathless. This book has been sprouting in my head for most of my adult life; it's hard to imagine a world in which I'm not planning to write it! But there it is, out on Amazon now and soon to be available, via extended distribution, wherever books are sold.
---
NaNoWriMo Time Again!
October 31, 2016. Yes, it's NaNo time again, and I still haven't released Chasing Fireflies. Have no fear! All the major work is done—it's now a question of cleaning up the messy bits. For now, I'm taking my annual break to deep dive into something new. NaNo always recharges my batteries, so I confidently expect to rip through Fireflies in December/January. Fingers crossed for an early 2017 launch!
---
NaNoWriMo 2015 update
December 2015. This year's NaNo saw me back in "Merle Darling" mode to kick off what will someday be book #3 in the world of The Upsilon Knot. Upsilon fans who are anxiously awaiting more about Claude and Co. will be glad to know that the series is still very much in development. In order to push the story forward from where The Omicron Negative (book #2) is planned to end, it was necessary to iron out some pretty big plot wrinkles, so this November blitz turned out to be doubly productive.
---
Under the Bus Launches!
February 2015. I'm delighted to report that Under the Bus has officially launched as of February 16, 2015, The book is available in both paperback and Kindle from Amazon outlets, and will soon be available via Nook, Kobo and indie bookstores everywhere.
Thanks to a dear group of cube-buddies for the wonderful immediate response. And thanks to B for generously allowing her send-off to turn into an informal book party!
---
NaNoWriMo 2014 update
December 2014. Happy to report that I made it through my 5th consecutive NaNo! This was a tough one.  Chasing Fireflies is a story that I've been waiting and preparing to write for what is, without exaggeration, my entire adult life. The extra motivation paid off with a new personal best of 71,233 words (according to my Scrivener counter). And some  of them are absolutely worth keeping!  Once I've finished Under the Bus, that is.
---
NaNoWriMo (2013 update)
All throughout November, I'll be up to my eyeballs in my annual NaNoWriMo project.  As you probably already know, the goal of National Novel Writing Month is to write 50,000 words of a new project. Even if you're longwinded and messy (like me!), that month of focus and support can get a new story off to a very respectable start.
My very first NaNo project, back in 2010, was the groundwork for The Upsilon Knot. Last year, while still working my way through that story, I spent November hammering away at the seeds of what may turn into a sequel. And, since publishing The Upsilon Knot earlier this year, I've been hard at work on Under the Bus, which was my 2011 NaNo project. NaNo may be a crazy marathon, but it sure works for me; which is why I've put Under the Bus on hold for a month while I recharge my batteries with a 2013 NaNo blitz.  I should resurface some time in 2014!
---
Reading in Stockholm, August 17, 2012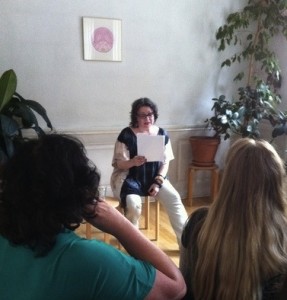 Photo from the first international reading of The Breast of Everything at the Alla Kan Institute in Stockholm.
It was a delight to read for such a responsive group, and to answer some excellent, thoughtful questions. I think of this book as being extremely American, which made it all the more exciting to feel the interest and understanding vibrating through the room. I also loved hearing the laughs!
Thanks to the Stockholm Expat Meetup Group for such a warm reception!